(...en Español, oprima aquí)
What type of files can I send?
---
We recommend saving as a PDF file. You may also send the file in the following types: JPG, JPEG, TIF, TIFF, EPS, and PNG. We prefer that you send a flat JPEG or PDF with embedded or outlined fonts. Remember to flatten your files before uploading. • 300 DPI or higher
---
What color mode should my files be?
---
We process all of our jobs in CMYK. If you send us an RGB file, there is a chance that a color shift may occur and you may not be satisfied with your job. We are not responsible if there is a color change. THESE COLORS ARE IN RGB

THESE ARE THE SAME COLORS BUT IN CMYK
You should always start and finish your designs in CMYK color mode.
---
What resolution should my file be?
---
Low resolution files may be printed as is or will be placed on hold until we receive new files, slowing your turn-around. If you ask us to proceed with a low resolution file, we are not responsible if the print out is not as you wanted. THESE ARE 72 DPI LOW RES IMAGES
THESE ARE THE SAME IMAGES BUT AT 300 DPI
We only accept 300 dpi files and no less.
---
How should I set up my bleed?
---
Bleed must extend past the cut-line and will be trimmed from the product during the final cutting phase. When the image is required to extend all the way to the edge, bleed is needed to preserve the finished look and the quality of the final product. Please keep all text at least 0.125" or 0.25" inside the cut-line. - The bleed for Standard Products is 0.125".
- The bleed for Booklets and Presentation Folders is 0.25".
- For Large Format Products, please see the Large Format FAQs for individual substrate guides.

We recommend using our templates at all times. If you don't see the template you are looking for, please let us know.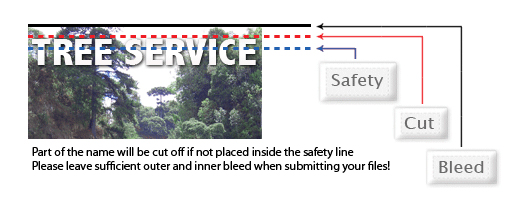 ---
Do you accept borders on jobs?
---
Although we prefer no borders on artwork...
Yes, we accept borders...but if the border is too close to the cutline, it may be cut off-center slightly as in the bottom example. If using a border, please make sure it is inside the safety line.
---
How should I set up my file for proper rotation?
---
We require Print Ready files with proper rotation. Files submitted are printed HEAD to HEAD as-is based off your files.
Make sure to set up your files so that when we print them HEAD to HEAD the final product will read the way you would like. Also, front and back files need to be set up either both sides vertically or both sides horizontally.
If you would like your back file to be upside down, please send your artwork as shown below.
If you have a fold-over or greeting card, please send your artwork as shown.
For files not properly set up, we will use best judgment and will not be responsible for improper rotation.
---
How can I avoid transparency issues?
---
Any transparency issue can be resolved before saving your file. To prevent this, never use shadows, glows, or any other transparency (image or otherwise) on top of a spot color. Always convert your spot color to CMYK and flatten before sending.
All of these effects will cause transparency problems.
---
---
---
---
Click a question to open and/or close the answer.